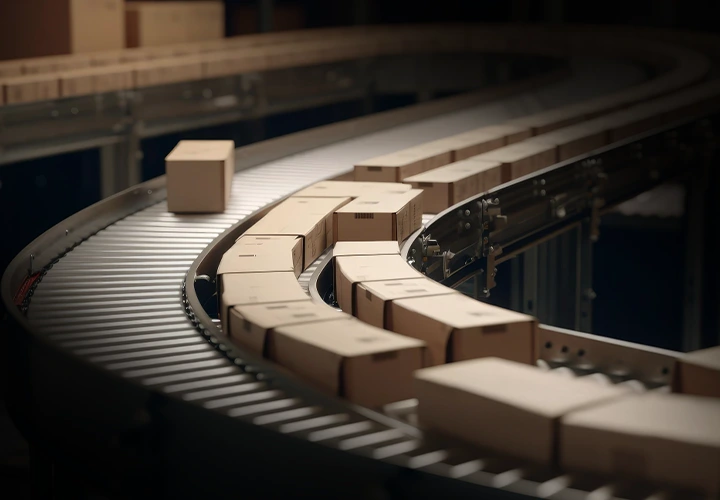 Manufacturing & industrial models have advanced by leaps & bounds over the years. Manufacturing nowadays is distinguished by mass production, high efficiency, and the utilization of high-speed machinery. With the requirement to handle and move massive, heavy industrial and agricultural products, mechanical devices like conveyor belt became necessary to move the things with the least effort.
Belt conveyor systems are important in helping manufacturing and delivery processes. However, verifying that the systems function well and maintain the numerous operations is critical. It involves training personnel to avoid, troubleshoot, and fix problems. And today, we will tell you all about how it works and the benefits of Belt Conveyors! So, let's get started!
What Is a Conveyor Belt System?
A conveyor belt system is a mechanical handling device that transports things from one location to another quickly and efficiently. Conveyor systems come in various configurations, but all involve a frame holding a pair of wheels, conveyor rollers, or a belt. Materials are placed on top to be moved from one location to another. A conveyor belt can be propelled manually, by gravity, or, more typically, by a motor. There are several types of conveyor belt systems, each designed to carry out certain tasks.
How Conveyor Belt Systems Work?
Belt conveyors or Chain conveyors are a material handling system that transports objects from one location to another using an unending belt. A belt conveyor system's components are the pulley, the belt, and the motor that powers it. Belt conveyors operate on a simple principle: a motor powers an idler pulley, which causes the pulley to move the length of the belt. Friction between the idler pulley and the underside of the conveyor's moving surface generates the force that propels the conveyor. This strong frictional force is responsible for movement in both directions along a given track. Conveyor belt systems' major components are their supporting structure, driving mechanism, and loading device; these components work together to provide an efficient transportation system.
The supporting structure acts as a platform for all other components and must be built to withstand maximum loads while retaining its shape during operation. On top of this support are two major components: the driving mechanism, which uses motors and gearboxes to push or pull things down the track, and a loading device, which allows operators to load materials onto or off of belts simply.If the objects are exceptionally heavy or bulky, or if the conveyor belt is moving them long distances, rollers may be put on the conveyor belt's sides for support.
How do Conveyor systems help?
Now, let's talk about the benefits of Belt Conveyors. It takes longer, costs more, and raises the risk of physical injury when individuals transport large objects. Industrial conveyor systems move items more quickly. They can effectively move objects from one floor to another by spanning numerous floors. Conveyor belts can also automatically discharge commodities, removing the need for a worker to stand at the end of the line to offload the products.
Lightweight and heavyweight belt conveyors have various uses and applications in various situations and industries. Conveyor belt systems, whether light-duty or heavy-duty, have a remarkable potential to affect efficiency, production, and labor. Conveyors come in various shapes and sizes, each designed to fulfill a specific purpose. In addition to the most common belt and roller conveyors, alternatives include Magnetic, Vacuum, Wheel, Slat conveyors, and many more!
Bottom Line
Conveyor belts are crucial to many corporate processes, so selecting the right type is critical. Understanding the many types available and how they work can assist you in making an educated selection and ensuring that your operation operates smoothly and efficiently. And if you seek help with your conveyor belts, contact Delta Stark. We are a leading manufacturer of belt conveyors, and our knowledgeable team can help you find the best solution for your company's goals and budget.