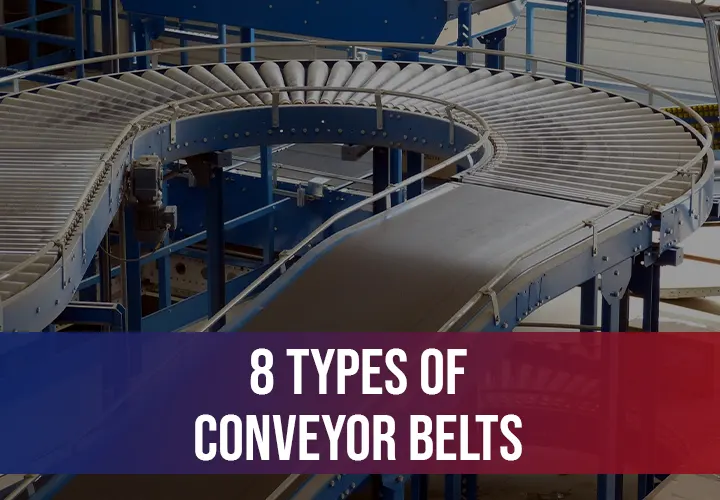 Are you thinking about purchasing a conveyor belt for your assembly line? Selecting a conveyor that best meets your company's demands is critical. Are you interested in creating a valid purchase? You must know the different types of conveyors – belt, roller, or chain conveyors and match them with your company's uses.
The right industrial conveyor can enhance profit margins, expedite your assembly line, and contribute to corporate growth in ways you would not expect. So, without further ado, let's begin!
The 6 Basic Types of Conveyor Belts
From belt and gravity conveyors to overhead and chute types, you'll likely see all, if not most, of them at manufacturing facilities across various sectors. Conveyors have several industrial applications in various sorts of manufacturing facilities. Regardless of the type, each one provides a distinct advantage to your warehouse. Let's take a look.
1. Roller Bed Conveyor Belts
As the name implies, the base of this conveyor belt model is made up of rollers that are chosen to fit production needs. They help support the weight of the items on the conveyor at an adequate speed. Roller bed conveyor belts are also a fantastic alternative for moving objects over long distances since they reduce friction, making it simpler for products to travel down the belt.
2. Flat Belt Conveyors
It is one of the most common conveyor systems used in industries. Flat belts are used for internal transportation or moving goods within a building. Flat belt conveyors are frequently used in industrial environments, wash-down facilities, and sluggish assembly lines.
3. Modular Belt Conveyors
While flat belt conveyors rely on a sole, concurrent material loop, modular conveyor belt devices use a single loop of several interconnected parts, often composed of hard plastic. Modular belt conveyors are ideal for applications that need traveling around corners.
4. Cleated Belt Conveyors
These are modeled with vertical cleats or obstacles. These cleats can keep loose goods secure during inclines and declines, offer uniform spacing between things, and more. Furthermore, cleats exist in various forms, each with its specific application.
5. Curved Belt Conveyors
This belt conveyor type uses a curved frame to transport products around corners, perform tight transitions, or use available floor space. Curves on these belts can turn 180°. True curved conveyors with no straight lines can only employ flat belts since modular plastic belts require straight runs before and after bends.
6. Incline/Decline Belt Conveyors
Incline belt conveyors have a central drive, a gear motor, and a single or double nose take-up. Instead of a smooth-surfaced belt, this conveyor has a rough surface on the belt, which is great for transporting things up and down.
7. Overhead Conveyor
Overhead Conveyors occupy almost little space in a manufacturing plant since they incorporate unused vertical space above the typical working area. Conveyors of this sort can traverse via manufacturing zones where people and robots are unlikely to access, like sprayers, ovens, and much more.
8. Power and Free Conveyors
These are the workstations of any production or assembly line. Technically, overhead industrial conveyors deserve to be featured independently because of their versatility. Power and free overhead conveyor systems are simple to maintain and ideal for demanding applications where product accuracy is critical.
The Bottom Line
Now, you can choose the safest, highly efficient belt conveyor systems based on your uses. If you keep this list in mind, you'll know what conveyor belt to search for. However, before making any equipment purchases, it is strongly advised to consult with an expert!
And if you seek help with your conveyor belts, contact Delta Stark. We are a leading manufacturer of belt conveyors, and our knowledgeable team can help you find the best solution for your company's goals and budget. So, contact Delta Stark today and find the best tna – tnb series belt conveyors with us!