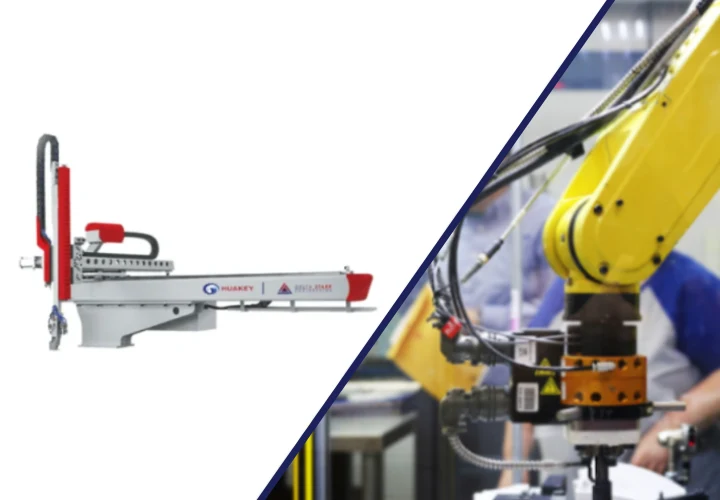 Industrial robots are now used in every phase of the manufacturing of plastics, including the procedures involved in injection moulding. Robotics gives plastics makers a competitive edge by significantly increasing productivity and high quality throughout the injection moulding, from loading materials into the device to finishing & assembling injection moulded kits.
Let's check out how Plastic Injection Moulding Robots create exciting opportunities within the plastics industry!
Injection Molding Traditional Vs. Automated
Robotics is being used more frequently in procedures connected to injection moulding, from loading materials into the injection moulding device before part moulding to assembling & finishing injection moulded kits. As the injection moulding business starts to comprehend the benefits robots could offer their factories, it will become more at ease with the technology. But how does it ease the plastic moulding processes?
In conventional injection moulding, a plastic resin is fed into an injection moulding device & progressively melted. Next, the plastic is injected via a hole into a mould at the proper pressure until the chilling period has passed when it becomes liquid. A worker then removes the part from the mould, placing it on a conveyor line. Then, the procedure is repeated repeatedly. However, with automated injection moulding, the continuous methods are delegated to robots, freeing the workers to aim at intricate jobs and inspections. As a result, plastic moulding can be produced and assembled more quickly and with lower expenses.
Different types of Plastic Injection Molding Robots
Now that we know how plastic Injection moulding robots are changing the injection moulding industry, it's time to know the different types.
3-axis Cartesian Robots – Entry Robots
Industrial robots with three axes at their top are the workhorses of plastic injection moulding because they are simple to use and maintain. They are employed in high-speed procedures and horizontal plastic injection moulding equipment. Cartesian robots are popular because of their configurations' high degree of flexibility, allowing users to change the robot's speed, accuracy, stroke length, and size.
6-axis – Articulated robots
Six-axis robots are a type of articulated robot that, because of their flexibility, reach, and strength, can carry out a wide variety of tasks. Six-axis robots have a wide variety of applications thanks to their flexibility. As a result, 6-axis robots can work in horizontal and vertical injection moulding machinery.
6-axis – Collaborative Robots (Cobots)
Six-axis robots' ability to move around and their general work envelope is crucial to their productivity in injection moulding. In all stages of material handling, assembly & other applications, the additional degrees of freedom result in more options and choices, which convert into noticeable process advantages.
These collaborative robots got their name because they could operate safely next to people. Their cohesive nature offers additional floor space even for floor/pedestal-mounted fixing. In addition, it provides quick entry to the cobot's working arena without requiring disabling alarms, safety paths & more.
For increased flexibility and precision for your production requirements, 4-axis SCARA robots offer a large circular work envelope with a wide range of movement. In addition, these industrial robots are compact, can be constructed on a smaller scale, and offer large work envelopes, high speed, heavy payload, and completely integrated solutions.
The success of an automated injection moulding production cell depends on the delay caused by the automated de-mold equipment, which side-entry robots can solve in many areas of your company. By letting the robot axis do all the work and providing a quick cycle time, they minimise production delays while increasing output and allowing your workforce to meet set targets and goals.
Sprue pickers have rapidly evolved to be essential components of machinery for the plastic processing industry. Your injection moulding machine can operate autonomously with the sprue picker robots. The injection moulding machine can start its next cycle by removing the sprue from an injection cast and throwing it away.
The Bottom Line
It should come as no surprise that robotic automation provides many advantages, and the injection moulding industry is no exception. Robotic automation is no longer the sole purview of global behemoths with quick returns on investment. Small businesses can also benefit from these Plastic Injection Moulding Robots as well.
To find the right answer for your plastic production line, consult an expert like Delta Stark. We will help you leverage your plastic injection moulding creation to another dimension. Contact us today!