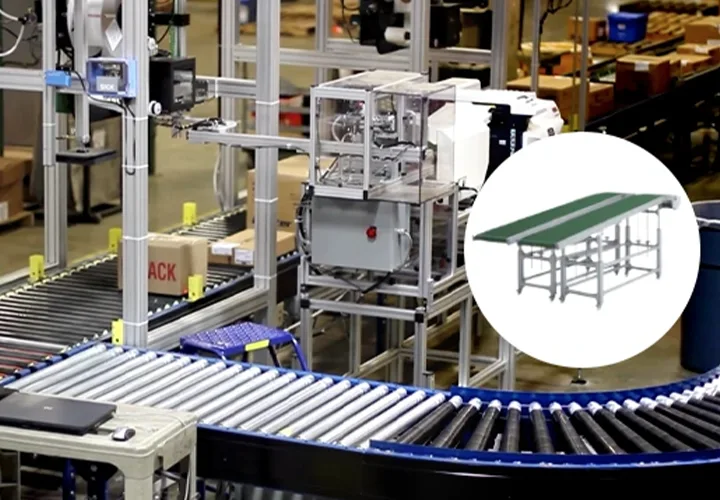 In today's fast-paced industrial landscape, optimizing efficiency and streamlining processes are paramount to success. One critical aspect of achieving these goals is to choose the right conveyor system for your specific needs. Among the various options available, understanding the advantages of belt conveyors is crucial. Whether you're managing a manufacturing facility, a distribution center, or any operation that involves the movement of goods, selecting the most suitable conveyor system can make a substantial difference in productivity and cost-effectiveness.
In this comprehensive guide, we will explore the key factors and considerations that will empower you to make an informed decision when it comes to selecting the perfect conveyor system for your business. From conveyor types and material handling requirements to space constraints and future scalability, we'll delve into the crucial elements that will help you make a choice that aligns perfectly with your operational goals. So, let's embark on this journey to uncover the insights you need to choose the right conveyor system for your unique circumstances.
5 Key Factors to Consider When Selecting a Conveyor
A good conveyor system is critical for running a successful business. And here are the 5 factors to consider before you choose the perfect one!
Consider The Product & Requirements:
Before you decide, assess the product and requirements that the conveyor will transport. Choosing the right system to manage what you're transporting is critical. You may waste a lot of space and lose efficiency by getting messed up at this juncture. For starters, consider the type of product you have in your facility. It is vital to consider the weight of what you are moving.
It may break if you don't acquire a conveyor system to support the weight. The size of your handling, like type and weight, must be considered while selecting a conveyor device. Finally, consider the pace of conveyor systems, as the one you select must match the speed of your production.
Consider Layout:
After you have determined which types of conveyors would work best for your products and requirements, you'll want to ensure that they will work in your workspace. No matter how well-designed a conveyor system is, it will only function well if it fits in your facility. As a result, make sure you properly plan it to fit in with your current layout. Remember that the manufacturing line plan should consider convenient access for cleaning and maintenance, worker safety, and productivity!
Consider Safety:
Working near machinery such as conveyor systems can be quite hazardous. You want to ensure that the conveyor system will not endanger your employees. The right conveyor device won't lose or fail any element that may cause a worker to be injured. It would also protect any of its extremely risky mechanisms to reduce the possibility of snagging or other injuries.
Consider Cost:
When it comes to conveyor systems, one of the vital things to imagine is the cost of the conveyor. Meanwhile, savings on a short-term basis with cheap conveyors, like a drill or vacuum, are quickly compensated by material waste or breakage. It's a concept of 'pay now/pay later.' A low-priced conveyor today will cost you far more in the long run. Finally, investing in the proper equipment is better than enduring the consequences afterward.
Consider Environmental Conditions:
Environmental factors are frequently overlooked or never considered when choosing a conveyor system. Understanding the environment in which your conveyor will be installed is critical. For example, if you work with metal parts, cutting oil residue or metal machining shavings may find their way into your conveyor, causing it to malfunction. So, choose the one that is environmentally friendly in every way!
Conclusion
Conveyor selection must consider essential factors such as product type, product weight, available facility space, environmentally friendly, and cleaning and maintenance resources to provide a high return on investment.
While cost is important, investing in the right material-handling machinery is preferable rather than facing the consequences later. Want to choose the best belt conveyors? Delta Stark can help. We are the leading belt conveyor manufacturer who can help you find the exact conveyor system you need. Reach out to us today!