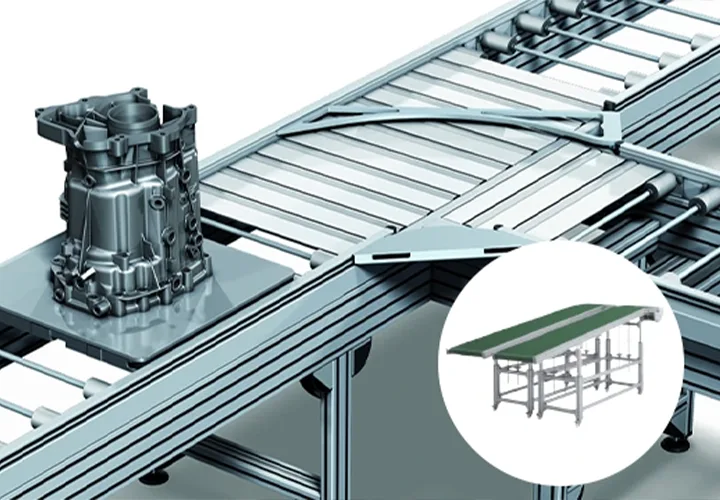 If you have ever had a job that required you to carry heavy goods all day, you're aware of some of the advantages of belt conveyors. You might have back pain to prove it! It takes a lot of time and effort for human beings to move minerals and rocks or boxes and food supplies. And the right conveyor belt can make your company's task much easier. Plus, belt conveyors lower labour expenses while increasing production. So, let's go over all the benefits and advantages of adopting conveyor systems and how they will affect your work.
What is a Conveyor System?
A conveyor system is a mechanical handling device used in the industry to transfer various commodities, cargo, and products. This technique drops workforce, hazards, and labor expenses in the workplace. These are quite useful for transporting large objects from one location to another. This method employs a belt, roller, and wheels to transfer goods or big loads. An electric motor can be used to power these systems. Material handling systems, such as belt conveyors, vary depending on the materials or goods transported.
Conveyor systems, or mechanical handling devices, are used in various sectors to convey goods and loads from one location to another within a given space. There are many conveyor systems, such as belt conveyors, chain conveyors, screw conveyors, roller conveyors, slat conveyors, drag chain conveyors, overhead conveyors, and Powered Roller Conveyors!
5 Advantages of Belt Conveyors for Industries
When moving a product, a conveyor makes the operation much faster and easier. Even in extreme environments, heavy-duty belt conveyors can continue transporting heavy, jagged objects. You can unwind knowing that your manufacturing process will not be disrupted
What's more? Let's take a look!
They Lower Costs:
With a conveyor in place, you will require fewer human resources, which will help you save money in the long term. Conveyors also work quickly, which helps you reduce manufacturing hours. The faster the products move down the assembly line, the fewer hours are required to keep the lights on. Conveyors consistently boost efficiency by 15% across a wide range of industries.
They Reduce Downtime:
Another advantage of a conveyor system is that it decreases downtime. Even if your factory has a truck or forklift, human resources are still required to load and unload the vehicle and drive it. You can keep a conveyor running continuously, enabling continuous loading and unloading, with the flip of a switch – as long as it doesn't break down. When you choose a high-quality conveyor system, you will have to fix it less frequently.
They Give you an Edge Over Competitors:
Conveyors are now ubiquitous in many sectors. With a high-quality automated mobility strategy, your company may stay caught up in the competition. It improves productivity, quality control & customer service. Customers can count on your organisation if your conveyor consistently delivers the same product every time. When customers use your services, they know what they're getting.
You Can Move Back and Forth:
Many chain conveyors can move in both directions. It is especially useful if your products must pass through many lines before they are ready to ship. All you need is someone to operate the controls. Slowing down the conveying system at any point during production is also possible.
They Make the Workplace Safer:
A happier workplace is safer. A conveyor reduces the likelihood of an operator being injured by a worker pushing, hauling, or lifting a large load. Whether you've been delivering things by hand or forklift, a conveyor system minimises collisions, making your workplace safer!
Find The Best Conveyor System For Your Company!
Apart from all the benefits above, conveyor systems are extremely adaptable. They are easily adaptable to different industries, functions & various systems. Also, the ability to adapt to diverse produce sizes and weights is an added benefit to an installation.
Want to reap all the advantages of belt conveyors? Delta Stark can help. We are the leading manufacturer of belt conveyors who can help you find the exact conveyor system you need!
Reach out to us today!