Full Servo Robot – Single Stage
Three axis/Five axis AC servo traverse robot is applicable to horizontal injection molding machine range from 80T to 300T for product and sprue take out. Vertical arm is single stage, one arm and two arms for your choice. Traverse axis (Z), crosswise axis (X) and vertical axis (Y) driven by AC servo motor. Full servo robot advantages: high precision, easy operating, smooth running and faster speed. It is mainly used for insert and some other high precision products.
Description
Features

Remarks

Dimensions

Parameters
100 sets of mold memory function
18 groups of standard program
80 groups of user teaching program
Open teaching mode, user can flexibly teach special action program to meet the needs of various special products.
I

 Single stage arm

W

 Telescropic type arm

S

 Single arm (Product arm)

D

 Double arms (Product arm+Runner arm)

S3

 Three axis servo driven

S5

 Five axis servo driven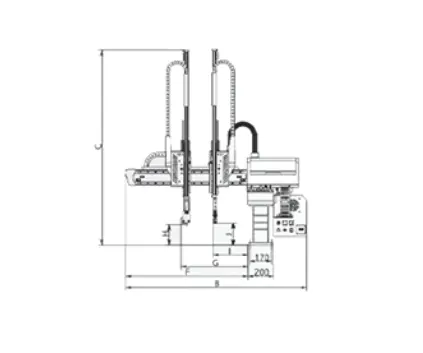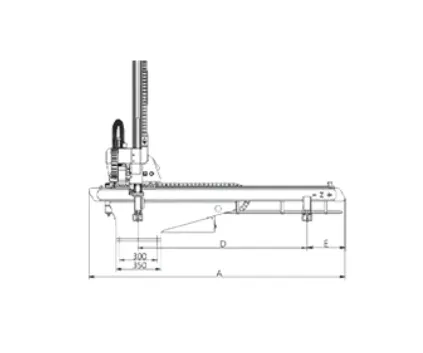 | Model | A | B | C | D | E | F | G | H | I | J |
| --- | --- | --- | --- | --- | --- | --- | --- | --- | --- | --- |
| THR700ISS3/IDS5S | 1800 | 1240 | 1410 | 1150 | 280 | 780 | 300 | 190 | 175 | 210 |
| THR800ISS3/IDS5 | 2040 | 1420 | 1530 | 1350 | 280 | 960 | 300 | 190 | 175 | 210 |
| THR900ISS3/IDS5 | 2220 | 1420 | 1650 | 1500 | 280 | 960 | 300 | 190 | 175 | 210 |
| Model | Unit | THR700ISS3/IDS5S | THR700ISS3/IDS5S | THR900ISS3/IDS5 |
| --- | --- | --- | --- | --- |
| Applied IMM | Ton | 80-160 | 160-260 | 260-320 |
| Traverse stroke | mm | 1150 | 1350 | 1500 |
| Crosswise stroke | mm | 350:150 | 350:150 | 400:200 |
| Vertical stroke | mm | 700 | 800 | 900 |
| Max load | kg | 5 | 5 | 5 |
| Fetch time | sec | 1.2 | 1.3 | 1.6 |
| Cycle time | sec | 7.5 | 8 | 8.5 |
| Robot weight | kg | 150 | 180 | 190 |